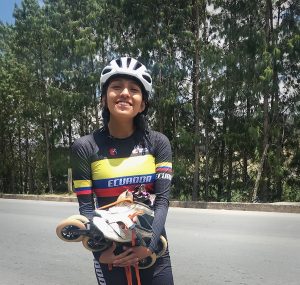 Hello, friends,
my name is Andrea Ortiz, I am 23 years old, I was born and grew up in Cuenca, a very beautiful city full of culture and traditions in the south of Ecuador. My parents were my greatest example of love and strength for me, their unconditional support taught me a lot and shaped my path.
My father infected me with his thirst for adventure. Since I was a little girl we explored every corner of Ecuador. On the other hand, my mother with her beautiful voice brought me closer to music, so I learned to play the guitar a little. Nevertheless, 15 years ago, my love and passion for sports started, I have been speed skating for 9 years and even had the opportunity to represent my country. Thanks to sports I was able to get to know new corners of the world and so, my love for tourism was born. In 2018 I finished my studies as a tourism engineer.
Thanks to my two passions I had the opportunity to work with people in need, to share my experiences with children and also to learn from them. I would describe myself as a social and fun person full of energy and I have a great desire to share this with others. I also appreciate the little joys that life gives us, a hug, a warming word or seeing a sunrise.
The possibility to realize this intercultural exchange fills me with great joy, I have much to tell you and to learn. I like to unite new perspectives and reach something incredible. I also love dancing.