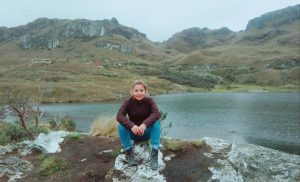 Hello friends,
my name is Tania Poveda, I am 24 years old and I come from Ecuador, more precisely from the Guaranda region in the province of Bolivár.
I am a very spontaneous and cheerful person, I enjoy talking to other people and getting to know their philosophy of life. At the moment I am finishing my studies in tourism and hotel business, I also like doing sports and I am taking care of a group of young people in the youth centre to motivate them to do more sports.
One of my hobbies is to write songs together with my brother or to make music covers. I also love to cook, I really enjoy that. What also gives me a lot of pleasure is to share my knowledge – as little as it may be – with other people who want to learn something and develop their skills. My philosophy of life is "living to do good" (original: "vivir para servir"), and sowing a little gratitude and knowledge in other people. I like to work in projects of social inclusion and equality, as I am motivated by my desire to help and work together without receiving anything in return other than gratitude. I also get a lot of motivation from my family who support me.
Being a volunteer is a very enriching experience for me, as you can exchange ideas, knowledge, culture, traditions and gastronomy, thus giving you the opportunity for mutual experience and living together.