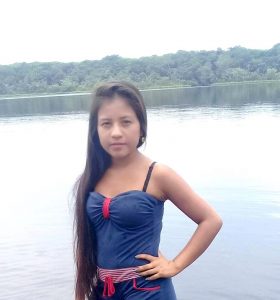 Kawsankichu mashikuna!
Hello friends!
I am a proud Ecuadorian and belong to the Quichua culture. My name is Vanessa Grefa Vargas. I am 19 years old. I studied tourism. I come from the Sucumbios region, which is the cradle of four indigenous nations of the Ecuadorian Amazon: the Cofanes, the Amazonian Quichua, the Sionas and the Secoyas.
I see myself as a very lively, happy and social person. I like to get to know new people and cultures, try new dishes and above all make new friends, exchange ideas.
I like to travel and to make new experiences in different places. I am interested in dance, literature, art, culture and music. My favourite music styles are Reggeaton, Merengue, Cumbia and traditional music of my culture. I like going to cultural events. Nature fascinates me and I like to be outside and enjoy the variety of flora and fauna.
I love my Quichua culture, the cuisine, music and traditional dances. Whenever I have the opportunity, I take part in community work. I like adventure sports.
I am very happy that I was chosen as one of two volunteers from Aves de Paso.
The volunteer service allows the connections and common ideas for a successful intercultural exchange to grow. I have high hopes in this process and I know that in this way we can step by step create a global society without discrimination and inequalities.
Being a volunteer in a completely new social and cultural environment enriches our knowledge and allows us to grow personally. It will be an unforgettable experience and it is a great honour and privilege to participate in this intercultural exchange.